Meet our Instructors at Infinite Martial Arts
X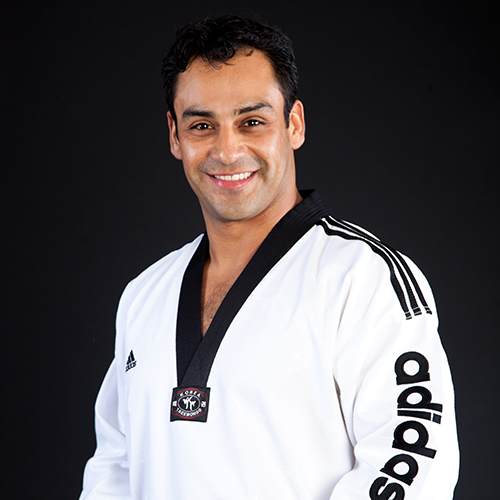 James Hidalgo
James Hidalgo is the Founder of Infinite Martial Arts that he started in 2011. After training in Taekwondo for the past twenty years, both as a professional athlete and while serving in the US Marine Corps as a non-commissioned officer, he decided to take his passion to the next level by opening up his own business. His passion for the sport has helped him build up a successful business that is able to help children and young adults develop a stronger sense of self and confidence that is uniquely provided through athletics. The goal he had and continues to have for the studio is to share the sport of martial arts with his local community.
James has over two decades of professional martial arts and teaching experience. He currently holds a 4th degree Black Belt in Taekwondo and a Purple Belt in Brazilian Jiu-Jitsu. James is also an experienced instructor in boxing, kickboxing and Muay Thai. He currently lives in the San Francisco Marina neighborhood to be close to his studio where he strives to serve his community.
X
Stefan Solomon
Stefan began his journey in Martial Arts at the age of nine and continued his journey by studying Brazilian Jiu-Jitsu while attending Arizona State University in 2001. While training under Carlson Gracie black belt Arthur Ruff, Stefan was able to develop his skills further and also achieved a major milestone of advancing to the level of brown belt.
After coming back to California and moving to Concord, he continued to progress and began to fight professionally under UFC top contender, Gil Castillo and Kickboxing champion, George Tsutsui. Now living in San Francisco, Stefan currently trains at the El Nino training center with multiple high level instructors and highly skilled competitors. Stefan truly enjoys studying Jiu-jitsu and Mixed Martial Arts as well as sharing the knowledge that his instructors have given him. The focus of his classes is to develop the mind, body and spirit of his students while embracing the philosophies, fundamentals, and traditions of Jiu-Jitsu.
X
Edward Lacayo
Remembering the important impact martial arts had on his childhood growing up, Edward is very honored to be able to give back to a new generation of bright children. Edward's experience includes 6 years of Taekwondo, 4 years combined in jujitsu, wrestling and hapkido, and has also competed in three separate US Junior Olympics (Olympic Sparring) at varying ranks. The highlights of Edward's career were achieving a National Champion gold medalist title as a Blue belt and earning the silver medal at the Jr National level as a Green belt. Those experiences have created a deep appreciation and passion for martial arts that Edward is very eager to share.
Having a daughter of his own has also allowed him to appreciate even more the importance of creating a foundation of discipline, focus & respect for our community's youth. Edward admires this foundation that Infinite Martial Arts has built for its community, and is honored to be mentored by his uncle, Master James Hidalgo, and give back to the Infinite family.